The vision of Dorchester School District Four is to be an exemplary district where all students reach
their maximum potential with the support of the district, home and community.
---
Annual Title I Planning Meetings
Harleyville-Ridgeville Middle School will soon host their annual Title I Planning Meetings. The purpose of these meetings will be to share information about the schools' Title I schoolwide programs, including plans for spending the 2015-2016 allocations. In addition, Mrs. Rivers will share information pertaining to instruction and assessments that will be implemented and administered during the 2015-2016 school year.
The meeting schedule is outlined below. Parents and other members of the school's community are encouraged to attend.
Tuesday, January 20, 2015, at 2:00 P.M.
Tuesday, February 17, 2015, at 2:00 P.M.
Tuesday, March 17, 2015 at 2:00 P.M.
For additional information, please contact Mrs. LaShawna Rivers, Principal of H-RMS, at either (843)462-2470 or lrivers@dd4.k12.sc.us, or you may contact Rhonda L. Robinson, Director of Federal Programs, at either (843)563-5923 or rrobinson@dd4.k12.sc.us.
---
Show Your Panther Pride!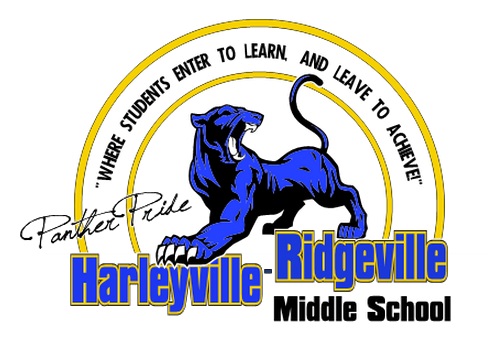 Panther Pride T-shirts are on sale for $10.00 each. If you are interested in ordering a T-shirt, click on the picture above. Checks should be made payable to H-RMS.
---
Congratulations to Our Character Students
and Teacher for the Month of February!
Character Word of the Month--Tolerence
6th Grade--Rebekkah Perez
7th Grade--Morgan Hutchinson
8th Grade--Kayla Russell
Character Teacher--Mr. Ahmad Stephens,
6th Grade Science Teacher
---
2nd Quarter Prinicipal's List and Honor Students attended an incentive field trip to Royal Lanes in Goose Creek on Tuesday, February 10th.
---
Channel 2 Newscaster, Octavia Mitchell, and her news crew visited H-RMS on Wednesday, December 10, to highlight the great things that are happening at H-RMS and to present the "Cool Schools" Award. Highlights of our school were shown on her "Cool Schools" segment on Channel 2 Monday, December 15th, Wednesday, December 17th, Thursday, December 18th, and Friday, December 19th.
Click the picture above to view the first segment that was aired.
Copy and paste the links below to view all of the segments that were aired.
http://www.counton2.com/story/27614019/cool-school-harleyville-ridgeville-middle
http://www.counton2.com/video?clipId=10960479&autostart=true
http://www.counton2.com/story/27659521/harleyville-ridgeville-middle-school-receives-the-news-2-cool-school-award
---
The next Early Release will be Wednesday, March 11. School will be dismissed at 12:00 P.M.
---
Congratulations to our newly elected 2014-2015 Student Council Members!
Treasurer- Connor Bohannon

Secretary- Markaya Parson
Vice President- Lindsey Muckenfuss
President- Gabriele Montuori
---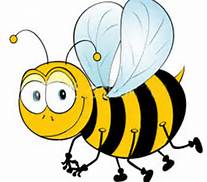 Congratulations to Gabriele Montuori and Lindsey Muckenfuss! Gabriele finished first out of fourteen spellers in the District's Spelling Bee that was held Thursday, January 29, at Woodland High School. Lindsey was the second place finisher. They will represent Dorchester District 4 in the Spellbound! Regional Spelling Bee that will be held on March 12 at Charleston Southern University's Lightsey Chapel. Spellbound! is hosted by the Post and Courier.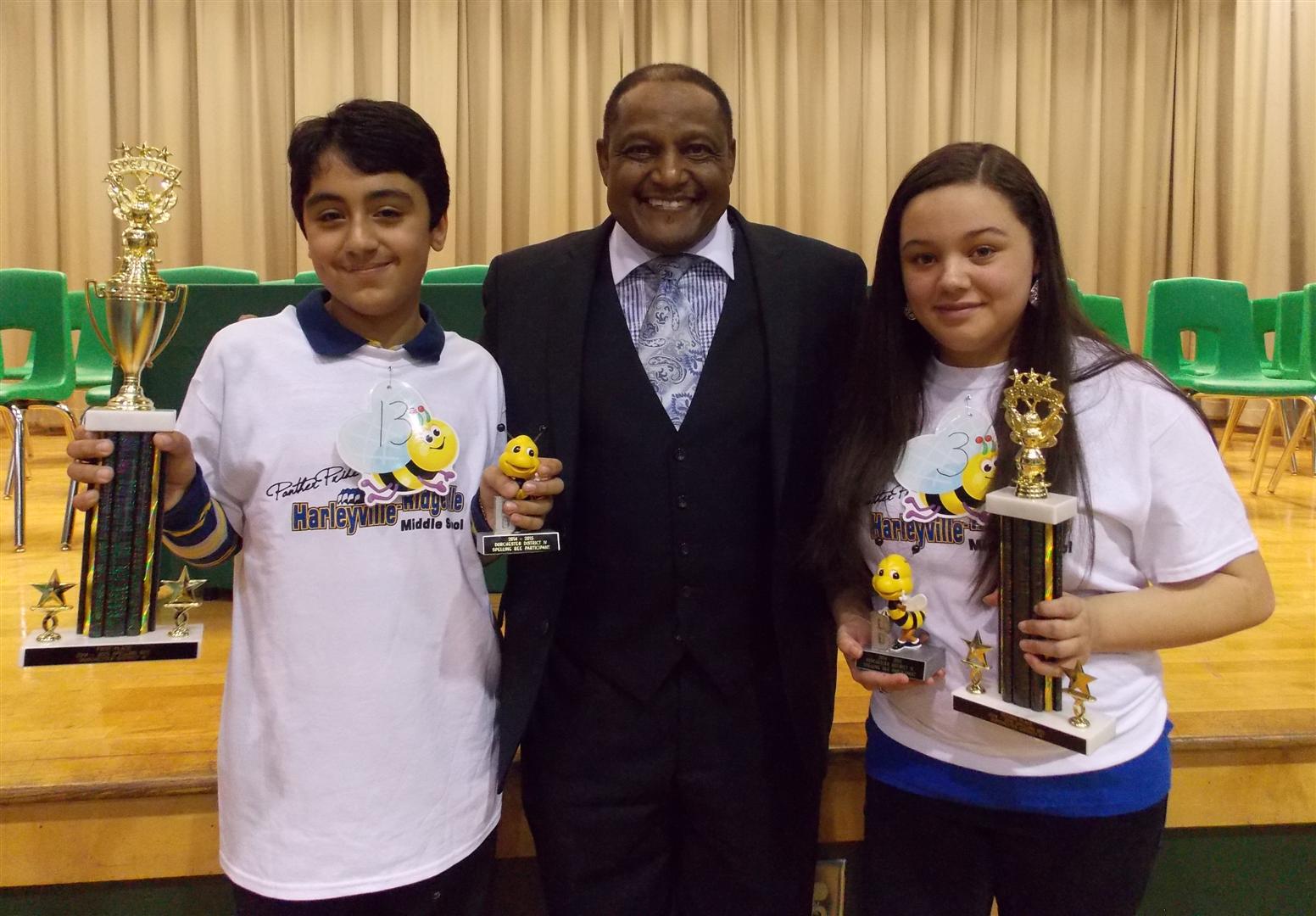 Gabriele was the Spelling Bee Winner for H-RMS. 1st Place went to Lindsey Muckenfuss and Keshaunta Allen finished in 2nd Place.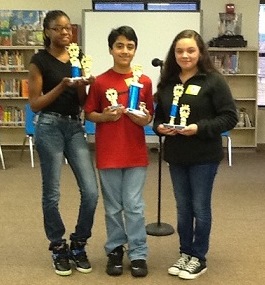 ---
Harleyville-Ridgeville Middle School participated in the Day of Caring sponsored by Trident United Way on Friday, November 14, 2014. H-RMS partnered with Dorchester County Employees to work on one of their outside projects of installing the poles in the two courtyards that will support the sails for their outdoor classroom. The Handy Hands Club, faculty, and staff members worked with the other projects that included painting murals in the hallways, cleaning the concession area and the stage, and planting, pruning, and maintaining the flower beds in the front of the building and in the two courtyards.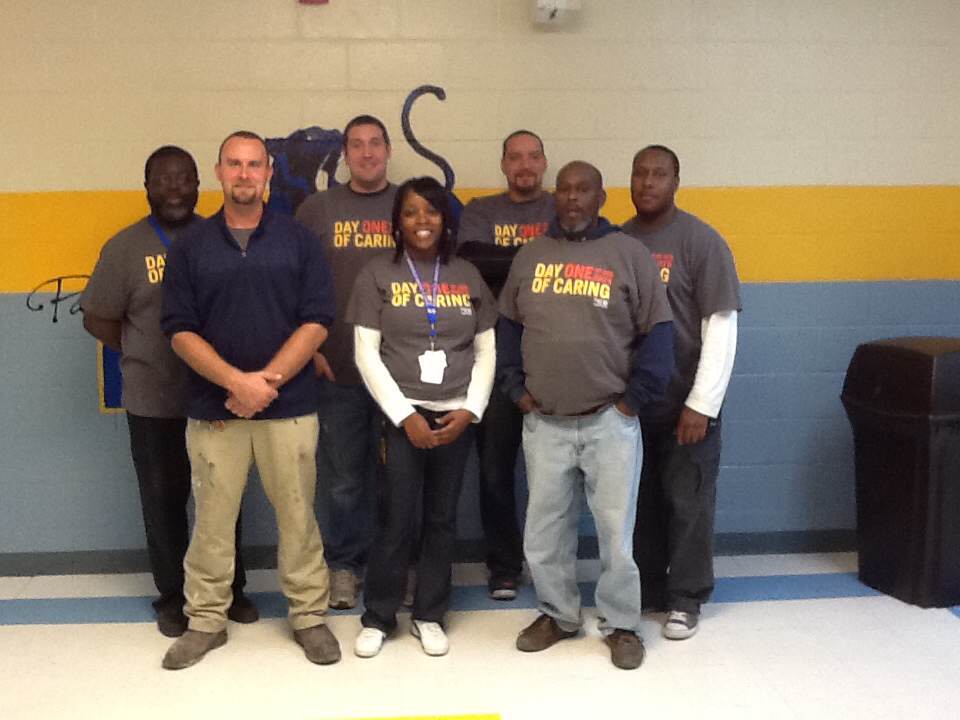 ​Pictured: (Back Row) Alvin Glen-Art Teacher, Chris Shiels- Advisor of Handy Hands Club, Todd Martin-Coordinator of TUW Afterschool Program, and Leroy Alston (Front Row) Brooks Varn-Dorchester County Employee, LaShawna Rivers-Principal H-RMS, and Derrick Berry-Dorchester County Employee​.
---
Harleyville-Ridgeville Middle School's Robotics Team competed Saturday, January 24, 2015, at Colleton County Middle School in the The World Class Regional First Leggo League (FLL) Robotics Tournament.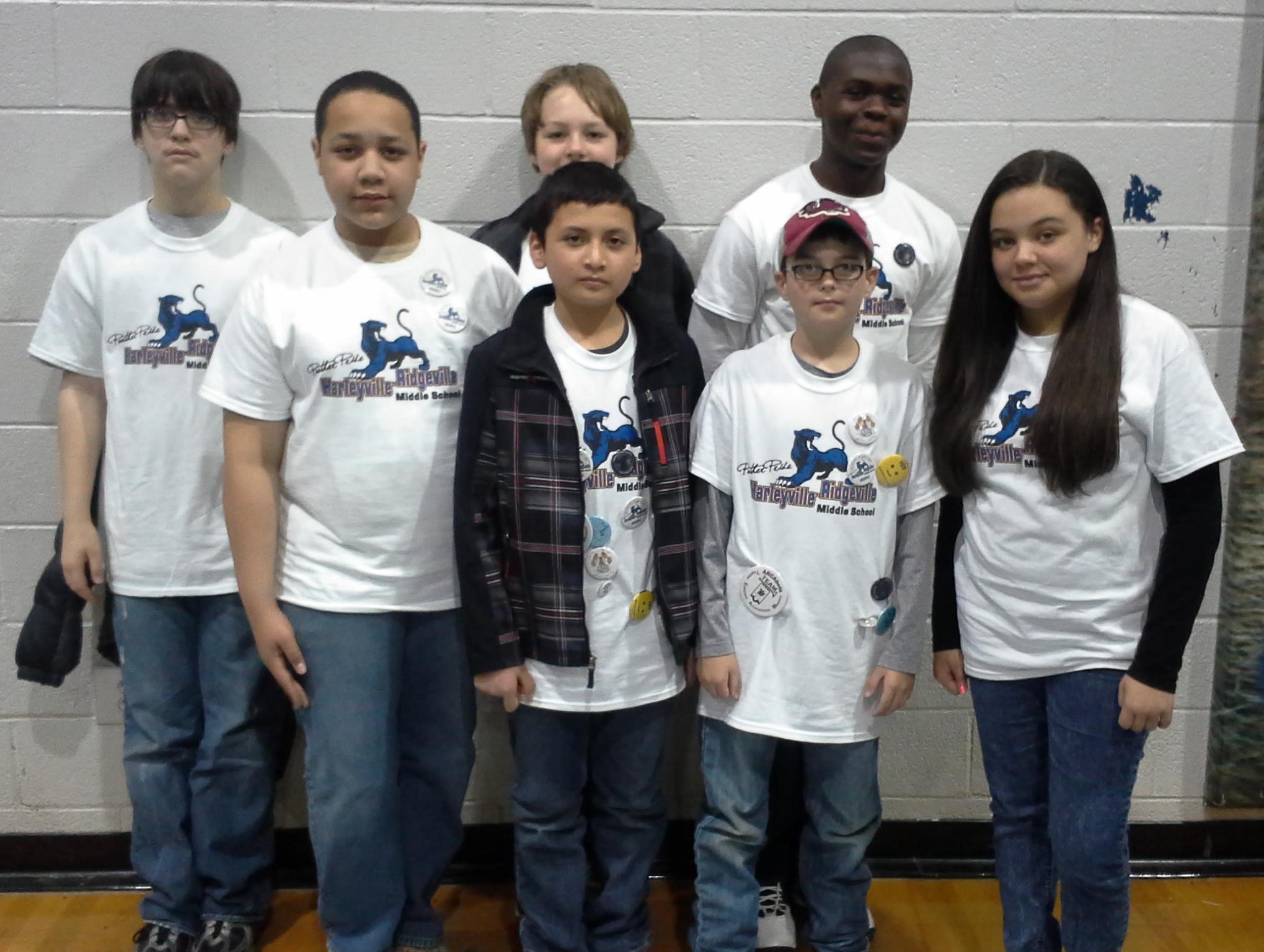 ---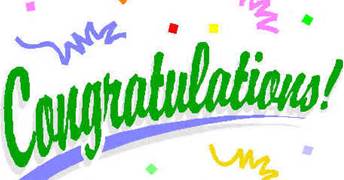 2014-2015 Employees of the Year!
Teacher of the Year – Mrs. Carmen Ellis
Rookie Teacher of the Year – Miss Jasmine Snell
Classified Employee of the Year – Mrs. Sheila Cobbs